As we celebrate the thirteenth anniversary for Pogo.com we thought it might be nice to give you a little history of your favorite game site, since you have all been a huge part of it. Whether you joined when we became Pogo.com in 1999, or found our site just a few days ago, you have contributed to our success.
Let us begin by thanking you for choosing Pogo! Your loyalty and passion have helped make this site what it is today, and we are eternally grateful.
We've broken the story into five chunks, and have included some memories from our players below each part. There were so many wonderful stories that players shared, it was very difficult to choose which to print.
For our long time players, this may be a trip down memory lane, as you'll recognize many of the events that took place. For those who've come aboard along the way, this provides a little insight into how Pogo has evolved through the years. It's really been a fun adventure!
A Brief History of Pogo, Before Pogo…
The year was 1999. The "Dotcom" boom had officially begun. Nearly every word in the dictionary was now followed by ".com" and several rainforest's worth of trees had been cut in order to print out first-draft business plans for each and every start up. The game site you know and love today was known under a different name: The Total Entertainment Network, or TEN, and this was our logo:
Screen shot of the TEN logo
TEN, Years Ago… 
TEN was founded in 1995 and aside from being an Internet company, it was nothing at all like Pogo. Simply put, we matched people with other people who wanted to play the same game on our service. You'd go to the store, buy one of our featured games, go home, install it, join TEN (which you also had to install!) and then you'd meet other people with whom to play.
Most of the folks on TEN were young men who enjoyed shoot 'em up games like Duke Nukem and Quake, and strategy games like Panzer General and Command and Conquer: Red Alert. We also featured multi-player fantasy games, as well as a few other in-house games like the cult classic Wiz War.
Today, you can still see one of the old TEN web site (circa 1997!), thanks to two of TEN's founders– and Pogo's, too– who went on to start up www.bestinclass.com.
As with so many of the start-ups during this era, we had high hopes for TEN, but things didn't quite work out as we'd planned, and the business never really took off. In fact, by the end of 1997, things looked pretty bleak. Through a series of layoffs and reorganizations, we'd gone from a company of around 150 people to about 50, and the future was very much up in the air.
Thankfully, we had very bright minds running the company, and the leaders at the time had been giving lots of thought to how to breathe new life into the company.
The idea to create web games had been kicked around for some time. While we'd been focusing our attention on TEN, there was one gentleman working a full time job during the day, and creating and maintaining web games at night. That man was Mike Riccio, and his humble gamesite, "WebDeck", had caught our attention. It was a perfect fit.
Screen shot of WebDeck
Mike came on board, and within 6 months we'd launched the "web" version of TEN, called "ten.net". We'd managed to procure some licensing deals with some of the more popular web portals of the day, and we launched with just a handful of card and board games. We'd been given a second chance and while we had a lot of work to do, we found it exciting to focus on something brand new.
Providing Games for Portals
Our first partner was the then-popular portal, Excite. We launched our games as "Excite Classic Games, Powered by TEN" and actively watched our audience grow. One very important number we tracked, and continue to track, is the daily "Peak Simultaneous Usage" number, or PSU. That's the highest number of people playing games at the same time every day.
"I remember when we kept madly reloading the home page to see the first time we had over 1000 PSU." Mike says today, "Here's the screen shot at 1001 on 8/18/98."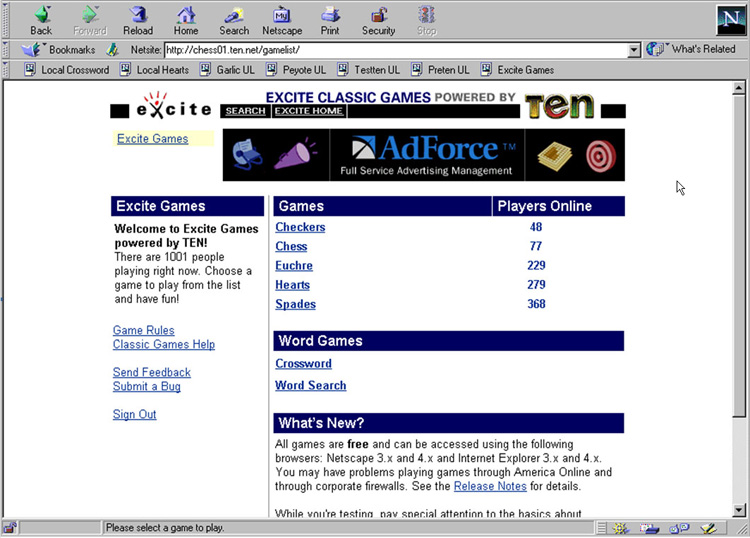 The first day we hit 1,000 Peak Simultaneous Users! (on a Netscape browser, no less!)
It wasn't long before we were providing games for a few more portals and as such, our audience continued to grow. Things were coming along nicely.
However, it soon became apparent that in order to survive in a "dotcom" world, we'd need a "dotcom" name. Our "ten.net" name, despite being a cute palindrome, already seemed dated. Of course, finding a "dot.com" name was no easy feat, as every last one of them seemed to be taken.
These were crazy times. There were so many businesses and so many ideas it was hard to keep them straight. To give just one example, one summer morning handfuls of people in the Pogo office were walking around with little bags. In each little bag was a potato. These were being given to people on the street by a company called "hotpotato.com". What they actually did, nobody seemed to know, but hey– free potato!
We had a list of potential names, including "marbles.com", "familyclassicgames.com" and a bunch of others. When we found out "pogo.com" was available, we jumped on it. It was short, fun, cute and easy to remember. It turned out to be the perfect choice.
On September 1, 1999, we threw a party at Bimbo's 365 Club in San Francisco to announce the change. We invited all the press we could, and served everyone drinks on "ten.net" napkins and coasters. While our CEO at the time made the big name-change announcement, the Pogo crew quietly switched all of those napkins and coasters (and whatever else had the old logo) to the brand new Pogo logo. These were the heady dotcom days, so we were aiming to make an impression. We danced the night away to a live band, and the next day we began our new life as Pogo.com!
NEXT: Pogo, the early years…
---
And here are some memories our players would like to share:
Member: Samhogan444
Joined Pogo: 1999
Story: I was a $572.70 jackpot winner and I still remember watching that Royal Flush show up in "Jacks or Better" video poker at 7am. I'm sure Pogo was still in the testing phase because they were paying out Royal Flushes quite often. Not too long after I won, they changed it to a Royal Flush – spades only for a jackpot and eventually changed to the "jackpot" words for a win. It's amazing the technology advancement in Pogo that has occurred throughout the years.
I'm looking forward to more inter-active items from Pogo – i.e. having Spike empty my dishwater or folding clothes while I work on my badges.
Happy Anniversary Pogo
Member: Kathy123_
Joined Pogo: 1999
Story: I played games before Pogo was Pogo. It was part of a now defunct site. So I have been a member before Pogo was born! I remember when the "big change" came from the old days to the new Pogo site. I was worried that the games would not be as good. But, I happily hung on, clicking away until Pogo was born. You can imagine how I feel about Pogo now. Pogo is an oasis of fun for me and my mom loves it too. It's affordable and I've met some amazing Pogo-ers too. Ya know, sometimes I feel like a proud mama to know I was there at the start, and to see Pogo grow to the best internet game site in the world is just amazing.
See ya in another 10!
Member: xyzcappie
Joined Pogo: 2000
Story: I joined Pogo when I was recovering from knee surgery and confined to a wheelchair for two months.
I used to tell everyone that Pogo was the best pain killer there was because when I was engrossed in a game, I forgot about the pain. All the nice folks I met were a bonus!
I've made friends from countries around the world and still play every day. It is the first website I visit every morning.
Congratulations and thank you for 10 years of great entertainment.