Falling for New Fall Minis!
I just want to tell you how much I enjoy the beautiful backgrounds for all of the seasons that your people provide.
This has become my favorite part of the Pogo site.  I could not possibly use everything that I have acquired over the years, but I just enjoy going through all of the pages to look at all of the absolutely  fantastic items that have been offered.  What outstanding artistic ideas that you have brought to us.
I thank you so much…
Sincerely,
bbbysgrl177
---
I'm Almost Falling (Literally!) Over New Fall Minis!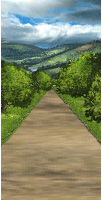 Just want to drop you a note telling you how much I love the new Autumn items at the Mini Mall. Of course, we Mini
addicts never will have enough so please keep them coming.
One thing I would really love is the background called "Onward Ho" done as a fall scene (Editor: as seen on the right). The road could become a leaf covered path and the trees done in fall colors. It is a straight line moving background. I love the new ones that look like you are going around a curve. They are great, but I get dizzy if I look at them too long.
Signed,
A Dizzy but Happy Pogo Mini Lover
---
Thanks for the Scooter, Too!
Dear Pogo,
As usual I am delighted with the new scooter mini!!
I LOVE looking "Dapper in Blue!"
With a new coat I can sspend my gems on something other than "chattering teeth". rofl
A belated but heartfelt Happy 13th Birthday to you all.
May we both have another happy 13 years together. (((hugs)))
You're my favoite Peeps.
Happy September,
Mel-on-Wheels
---
It Feels Like Fashion Week on Pogo!
Dear Editor,
You have made me one happy player with all the new and beautiful items and clothing both for myself and my husband Nick_Bear, who is also glad for the clothes for the men!
I usually don't buy a lot at a time but this time was different, I even bought a lot with gems, well more than usual.
They really outdid themselves.  I have my mini out walking on the roads and riding her bicycle as well.
Thank you and the Pogo Art Department, y'all really out-did yourselves.
I am glad you asked us to let you know.
Sincerely,
Nicki_Bear
---
New Ads in Pogo Bridge Disrupt the Game
Today I was playing bridge on Pogo with my daughter, who lives 500 miles from me.
Up until now, it has been a very pleasant way to visit and share a few minutes together.  In less than an hour, our bridge game was interrupted numerous times for a 30 second "break".  Since both of us are Pogo members, we tried to go to a members only room, as suggested.  In those rooms, there was only a handful of players, so it would take too long to wait to fill up a table to play.  In addition, our friends, who are not members, could not go to those rooms to play with us.
As you know, bridge is a game that requires concentration; most people who play the game well, try to remember what's been played and what hasn't.  Much to our dismay, in the middle of a hand, we would be suddenly interrupted for a "break".  By the time the break was over, we had lost all focus and concentration.
If this is the new policy Pogo plans to maintain, I will sadly have cancel my membership and find some other site to play games.  I have been playing on Pogo for about 11 years, and a paying member for more than 9 of that.  I joined to avoid the distraction of advertisements, but the absolute stopping of the game for a break is a worse distraction than the ads.  I don't want to leave Pogo, but this makes the game unreal and intolerable.
Sonja
Editor: We've heard from a lot of folks about this, and we are looking into what we might be able to do fix the situation so that players are not interrupted mid-game. Stay tuned.
---
Poppit! Cactus Quartet Performing Back Where They Belong!
Tahd,
Just a quick thanks for getting my Poppit Cactus Quartet M&M Badge back into my collection.  It was even returned to the correct album, M&M Album #6.
Suz
MomsBassetHound
---
Does Pogo Know the Meaning of "Any"?
I selected 2 premium albums (the only two I haven't already purchased), went to check out, put in the coupon word "ALBUM", clicked apply and was told I didn't have enough items for the coupon to be used.
Your promotion said any TWO premium albums. BOTH albums I chose said "premium album" on the cover. One was a six game premium album, and the other was a 10 game premium album. Please explain this problem and fix it. In all fairness, it should be explained and/or fixed before the alotted time for the discount runs out.
Thank you for your speedy attention,
LadyPuyallup
Editor: Your point is well taken – I looked at the promotion, and while we did have a disclaimer at the bottom, I don't see that we included anything about exceptions. There is at least one exception – the just-released "Decades PBA". You'll need to choose another PBA to take advantage of this promotion.
---
EA Gift Cards, Acronyms & Thanks
Dear Tahd,
Will Pogo honor/extend promotions considering the issue with EA Gift Card redemption?  I hate to be greedy, but every little bit helps when stocking up on Albums. J
Also, to the youngster who hates acronyms.  I can't type 60 words per minute – more like 6.  Lighten up!  It is nice to be able to recognize a BINGO winner without missing the next several numbers called.  This is true in other games as well.  It also makes it easier for those who have English as a second language to express their appreciation.  And I'd rather see "WTG", then "Way to og".  'Nuff said.
Thank you, THANK YOU for your patience in answering questions and to POGO for giving me hours of fun and a way to visit/play games with my sister who is half way across the country!  We use Private Chat when it's available so we don't bore the rest of the room with our personal conversation; something I wish more players would do.  But that's another soap box for another time.
Many thanks!
NLBA
Editor: Alas, the issue with the EA Game Cards took us by surprise and was in no way related to the promotions we were running on Pogo. EA Game Cards are currently not working for *any* of the EA games.
The good news is that a fix is in the works, and it's said that they should be working again by tomorrow at some point.
Thanks for your feedback on acronyms, and your love for Pogo! It's always great to hear. 
---
Acronyms Are Not Archaic!
To the Editor,
To the writer who assumes that.. ."the days of ASL and TTYL are long gone."
Obviously you are not deaf. Just because YOU don't use ASL or a TTYL doesn't mean others don't.  I happen to be very hard of hearing and use ASL a lot. I don't own a TTYL because I CAN hear using a telphone (do you know what a TELEPHONE is?)
Don't complain about something you know nothing about. Use of acronyms is an everyday occurrence and should be respected in both the written language and the spoken language.
Just because you grew up with "technology" doesn't make you any more smart than those who grew up without them. Please, quit your griping and be glad you can at least LEARN what an acronym even means, AND you have good enough hearing to not NEED ASL.
Sincerely yours,
User of ASL and acronyms.
Editor: There is a little confusion here – in last week's letter, the author was referring to "ASL" and "TTYL" being used as acronyms for "Age/Sex/Location" and "Talk To You Later". You saw them as American Sign Language and "TTY" – which stands for Text Telephony. 
Either way, we did receive a few similar complaints about that letter-writer being a bit insensitive to the way people communicate. 
---
Appreciate the Golf Solitaire Challenge!
Hi, Tahd
Just thought I'd write a quick note to say THANKS SO MUCH for having a challenge in Golf Solitaire this week. I love this game and my greatest Pogo moment was gaining the elusive Flawless Victory Badge, YAY!
Now I just need you to add more ranks to Golf Solitaire (pretty please with a cherry on top:) Now, if I could only win that other elusive bade from MONOPOLY World Edition; The Big Roller Badge ;)
Bestest Wishes,
Jehnna
PS: Don't forget to add more ranks to Golf Solitaire & while I'm at it, Dice City Roller as well???
---
Wanna talk about this week's column? Visit the Pogo Forums and start posting!
Have something to say to the Editor? E-mail editor@pogo.com. Please note – if you are having any customer support or technical support related questions, please contact our Customer Experience Team